Regardless of what communication methods you and your trading partners require, Foundational is the perfect solution. Simply connect to Foundational and all of your EDI data will be routed to and from your trading partners via the communications protocol that they require.
Simple and Affordable VAN Services
Foundational offers cost effective transmission fees – typically starting at $0.10 per kilocharacter with no overage charges or other hidden costs with discounts as your volume increases. Our pricing model is designed to be economical and cost effective. Our objective is to partner with your company to make EDI and e-business a strength of your business. Eliminating high priced transmission charges is one way we do this.
Flexibility is Key
Foundational VAN Services support all communications methods including VAN connections, FTP, AS2, web services, and more. You simply connect with Foundational and we handle the rest.
Affordable and predictable pricing model with no hidden fees

Low rates per kilo character, with volume discounts available for large volume customers

Supports virtually any communication protocols

Unparalleled reliability

24/7 Service and support

The perfect entry point to Foundational's simple and effective approach to EDI and e-business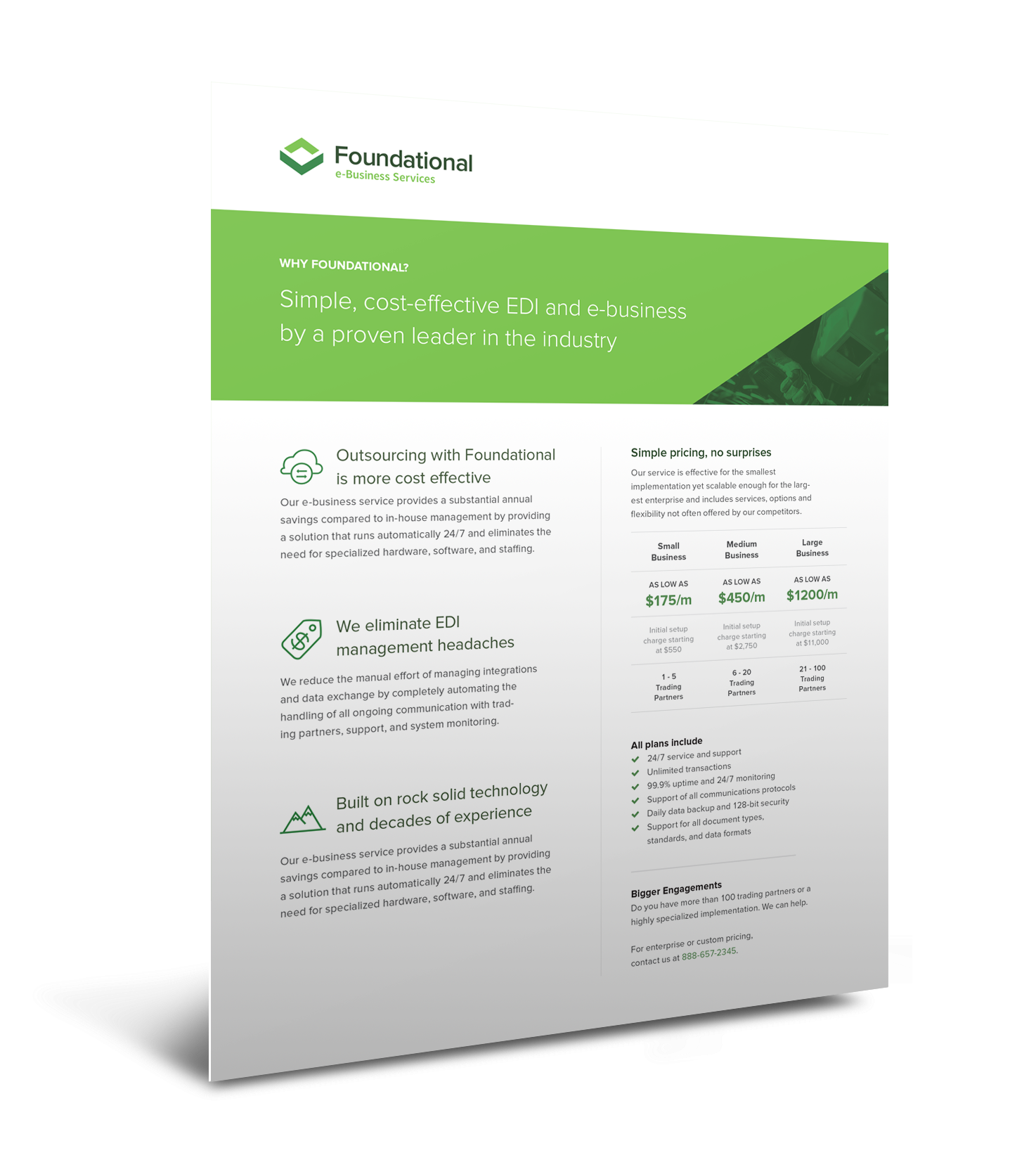 CAPABILITIES OVERVIEW
Eliminate your headaches and rest easy when you outsource EDI to Foundational
Download our Overview
What Our Customers Are Saying
"Having the right foundation in place is a key for us at North Side Foods; each order placed and received is critically important. Foundational helped us clarify our e-business needs and implemented an integrated e-business solution that fits our business. As a results our process is smoother, we have better access to transactional data, and our supply chain is better integrated."
ROBIN CALDWELL, NORTH SIDE FOODS
Have us contact you to customize a solution that fits your business.
Or give us a call at 888-657-2345