Whether you are a retailer or selling your product through retail outlets, e-business is essential to maintaining a smooth flow of transactions. In fact, EDI is a requirement of most large retailers; if you want to sell through those channels then EDI will be necessary. When you outsource your e-business infrastructure to Foundational, your EDI activity will be handled by experts that know what it takes to satisify the EDI requirements of the most demanding retailers while helping your business benefit from improved efficiency and reduced errors.

If you currently use EDI then Foundational can help you get more from your e-business infrastructure. Whether you choose to outsource your e-business infrastructure to Foundational, leverage the experience of our EDI expert consultants, or simply take advantage of our simple and low cost VAN service, we have the solutions that enable you to increase the value of e-business in your organization.
Cost Effective and Efficient
When you outsource EDI to Foundational, your e-business activities will be managed by experts. The Foundational system is designed to be cost effective and easy to set up for the smallest of implementations, yet powerful and flexible enough to satisfy enterprise needs. Furthermore, our straightforward pricing model finally makes EDI a predictable value proposition. On average, Foundational customers expand their EDI implementation by 50 percent in the first year of using the service because the benefits are clear. No longer do you need to avoid the EDI conversation with your larger customers – now EDI becomes a strength of your business.
Rule and process-based handling of communications
As an EDI management service, our team is your team. As such, we can quickly adjust the system to changing conditions by staying current on technology standards and your unique Business Rules and Business Processes, as well as the changing requirements of your trading partners.
Maximum flexibility
The Foundational system is capable of handling traditional EDI or any other file format and communications method that you require. You simply tell us what you need, or which trading partners you wish to work with, and we do the rest.
Experience satisfying requirements of most retailers that require EDI

Support for any file format (i.e. XML, X12, EDIFACT, .csv, .txt, etc.)

Support for any communications method

Foundational manages the EDI setup with your trading partners

Support for any type of business transaction. Common transactions in manufacturing and distribution include purchase orders, invoices, ship notices, PO acknowledgements, text messages, etc.

Requires no hardware or software

Requires no in house knowledge of EDI/B2B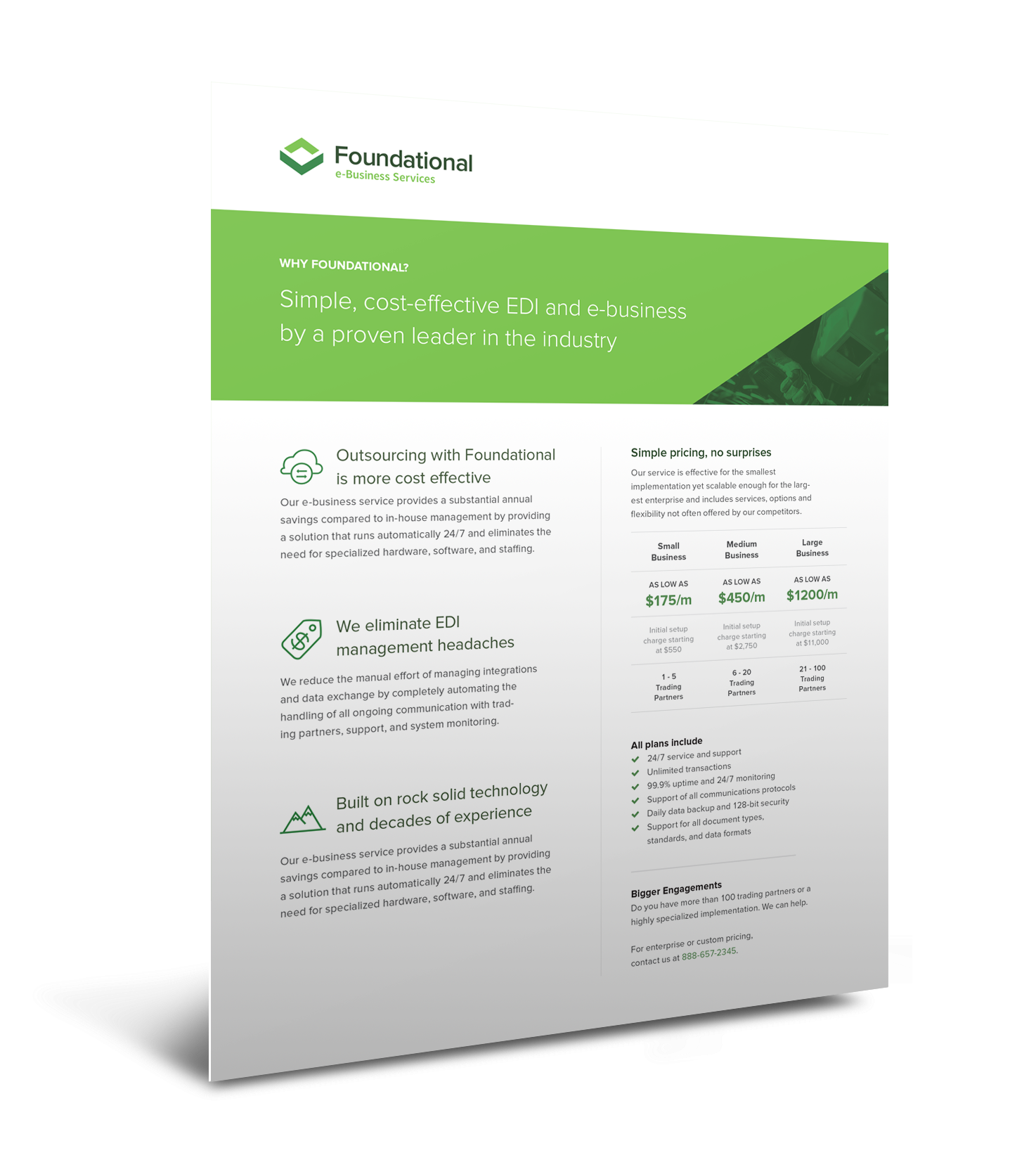 CAPABILITIES OVERVIEW
Eliminate your headaches and rest easy when you outsource EDI to Foundational
Download our Overview
What Our Customers Are Saying
"Stauffer's, best recognized for Original Animal Crackers, manufactures products on the East and West Coast and distributes nationwide. Staying on top of our customers' e-business requirements while streamlining our own operations is essential. As a result of outsourcing our EDI processing to Foundational we have achieved a higher level of internal integration, saved hours of processing time, and reduced customer chargebacks by as much as 85 percent".
Have us contact you to customize a solution that fits your business.
Or give us a call at 888-657-2345