In today's competitive environment, efficiency is key. Part of being efficient is to focus on what you do well. In manufacturing and distribution, EDI and e-business is a vital part of your infrastructure, often times required by your customers. Foundational's Managed E-Business platform is the perfect solution to help you benefit from EDI and satisfy the requirements of your most demanding customers, without losing focus on what your business does best.

From procurement to sales to distribution, Foundational has extensive experience integrating and managing EDI as a service for manufacturing and distribution companies. We work with clients to deliver and manage a turn-key solution for any environment. Foundational's systems can integrate into the existing interfaces of your ERP or MRP applications. We also have experience with manufacturing-specific transaction sets and EDI requirements. You can rest easy knowing that your EDI infrastructure is managed by experts.
Cost Effective and Efficient
When you outsource EDI to Foundational, your e-business activities will be managed by experts. The Foundational system is designed to be cost effective and easy to set up for the smallest of implementations, yet powerful and flexible enough to satisfy enterprise needs. Furthermore, our straightforward pricing model finally makes EDI a predictable value proposition. On average, Foundational customers expand their EDI implementation by 50 percent in the first year of using the service because the benefits are clear. No longer do you need to avoid the EDI conversation with your larger customers – now EDI becomes a strength of your business.
Rule and process-based handling of communications
As an EDI management service, our team is your team. As such, we can quickly adjust the system to changing conditions by staying current on technology standards and your unique Business Rules and Business Processes, as well as the changing requirements of your trading partners.
Maximum flexibility
The Foundational system is capable of handling traditional EDI or any other file format and communications method that you require. You simply tell us what you need, or which trading partners you wish to work with, and we do the rest.
Support for any file format (i.e. XML, X12, EDIFACT, .csv, .txt, etc.)

Support for any communications method

Foundational manages the EDI setup with your trading partners

Support for any type of business transaction. Common transactions in manufacturing and distribution include purchase orders, invoices, ship notices, PO acknowledgements, text messages, etc.

Requires no hardware or software

Requires no in house knowledge of EDI/B2B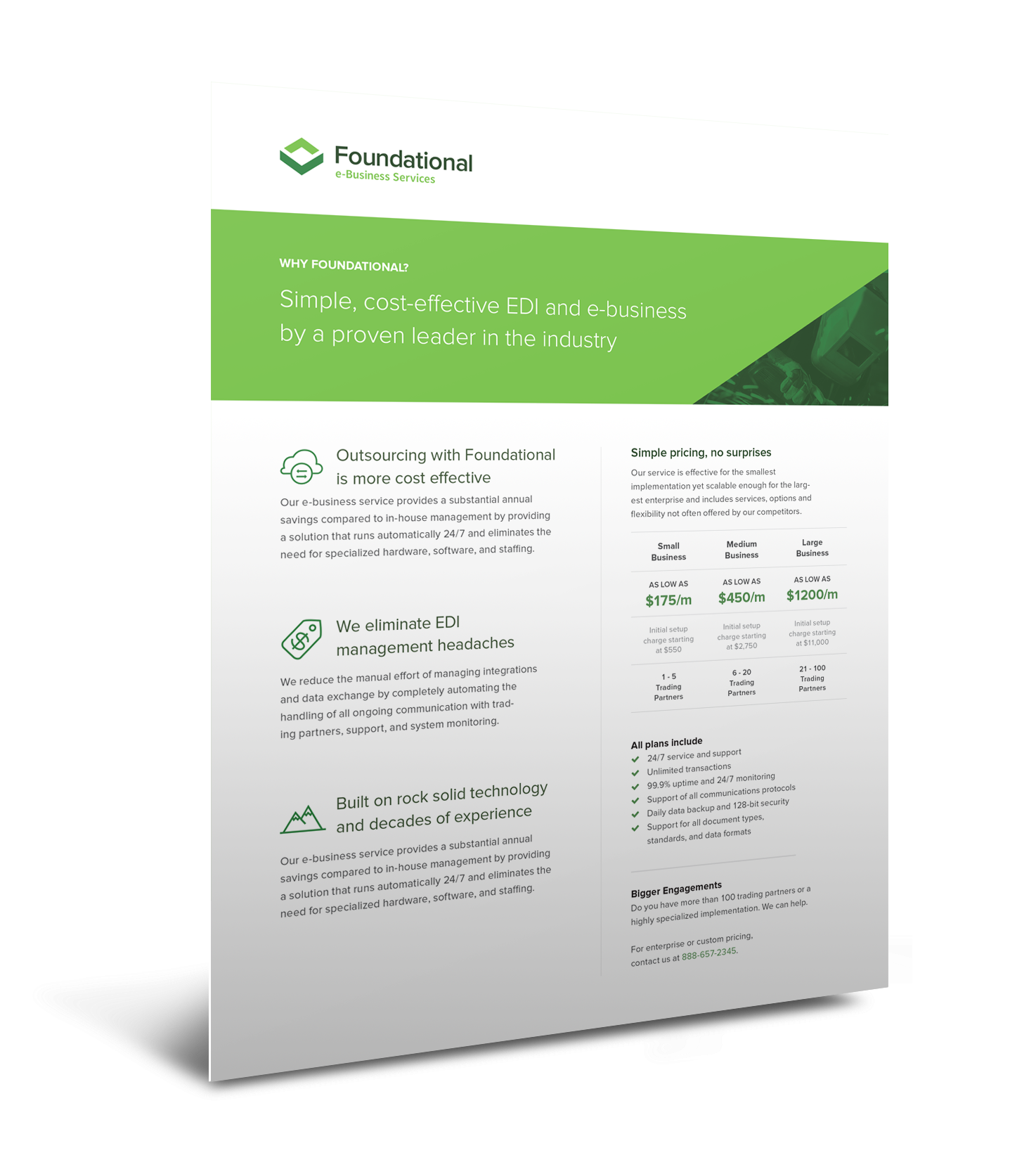 CAPABILITIES OVERVIEW
Eliminate your headaches and rest easy when you outsource EDI to Foundational
Download our Overview
What Our Customers Are Saying
"Having the right foundation in place is a key for us at North Side Foods; each order placed and received is critically important. Foundational helped us clarify our e-business needs and implemented an integrated e-business solution that fits our business. As a results our process is smoother, we have better access to transactional data, and our supply chain is better integrated."
ROBIN CALDWELL, NORTH SIDE FOODS
Have us contact you to customize a solution that fits your business.
Or give us a call at 888-657-2345