Foundational's managed EDI service provides mapping, translation, communications and support for the trading of electronic business documents with your customers and vendors. When using our service, you will not require any software, hardware or EDI/B2B knowledge. We take care of everything for a low monthly fee.
Substantial Annual Savings
Our e-business service provides a substantial annual savings compared to in-house management by providing a solution that runs automatically 24/7 and eliminates the need for specialized hardware, software, and staffing.
We Take Care of Everything
We reduce the manual effort of managing integrations and interchanges by completely automating the handling of all ongoing communication with trading partners, support, and system monitoring. Our service requires zero software installation or support drastically reducing time and effort.
Flexible e-Business Platform
Our platform is tailored to solve the needs of our clients regardless of business type or size. It is designed to be functional and cost effective for the smallest implementation, yet powerful enough for the most demanding enterprise. We can accommodate virtually any file structure or communications method, effectively future proofing your e-business initiative.
EDI Becomes a Strength of Your Business
Most Foundational customers expand their EDI implementation by 50 percent in the 2nd year, and consistently thereafter. For them, EDI has become a strength. The cost to add new trading partners is fixed and economical, and implementation is easy.
Saves money

Low entry point costs

Volume discounts are applied automatically

Requires no hardware or software

Requires no in house knowledge of EDI/B2B

Completely automated and tailored to your needs

Can accommodate virtually any document format, both standard and non-standard

Supports all commonly used communication protocols

Unparalleled reliability

24/7 Service and support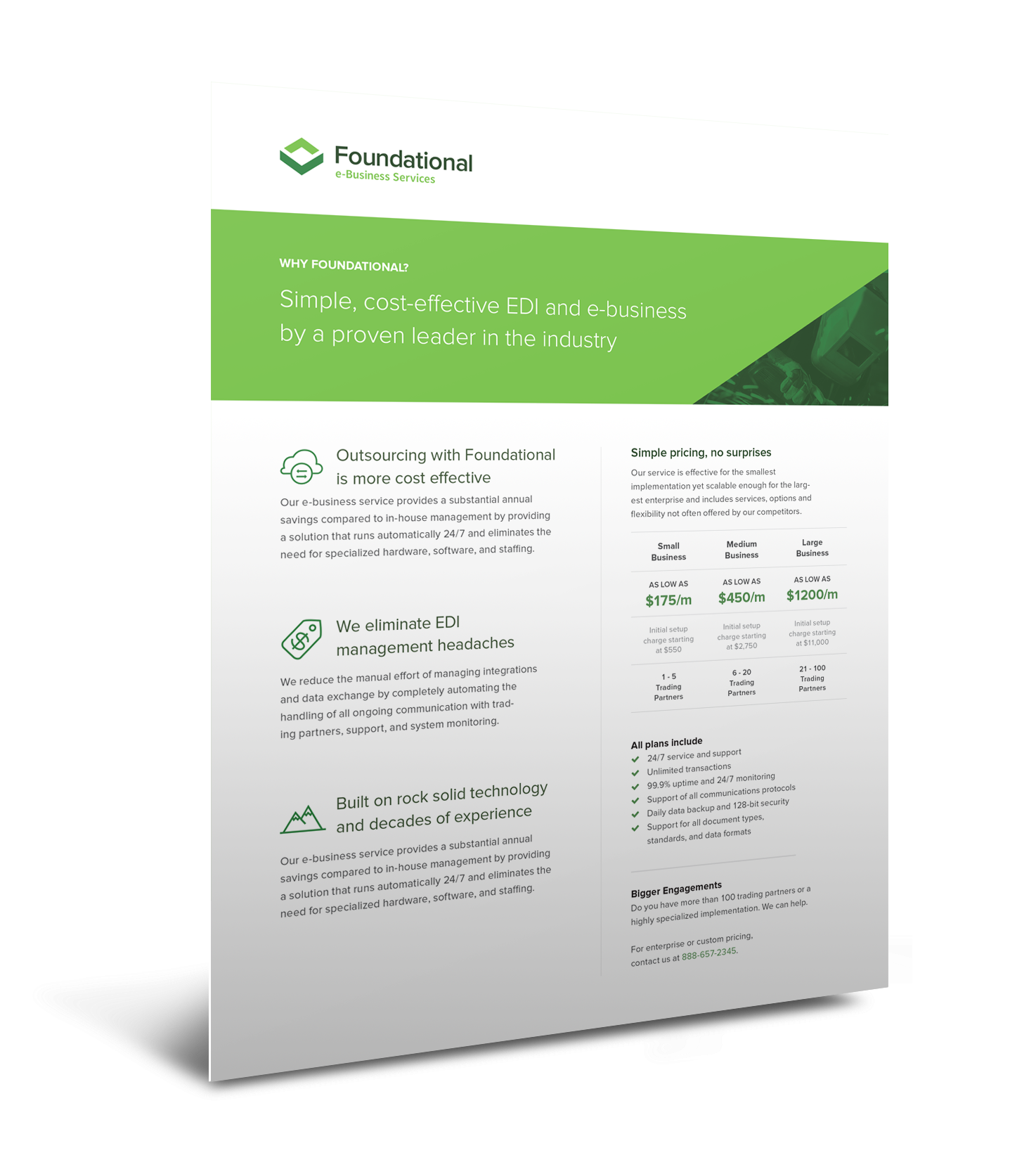 CAPABILITIES OVERVIEW
Eliminate your headaches and rest easy when you outsource EDI to Foundational
Download our Overview
What Our Customers Are Saying
"Stauffer's, best recognized for Original Animal Crackers, manufactures products on the East and West Coast and distributes nationwide. Staying on top of our customers' e-business requirements while streamlining our own operations is essential. As a result of outsourcing our EDI processing to Foundational we have achieved a higher level of internal integration, saved hours of processing time, and reduced customer chargebacks by as much as 85 percent".
Have us contact you to customize a solution that fits your business.
Or give us a call at 888-657-2345